Chocolate Birthday Cake
Recipe Type
:
Vegan Gluten Free Plant Based
Author:
Prep time:
Cook time:
Total time:
Ingredients
1 1/4 cup gluten free flour (I love Bobs Red Mill gluten free one to one baking flour)
1 cup coconut sugar
1/2 cup cocoa
1/2 tsp salt
1 tsp baking soda
1 cup coffee
1/3 cup avocado oil
1 tsp vanilla
1 tsp apple cider vinegar(I use Braggs)
FROSTING
1 can full fat coconut milk
1 1/2 packages of enjoy life vegan chocolate chips
Instructions
Preheat oven to 350 degrees
Place flour, sugar, cocoa, salt, and baking soda in a mixing bowl and stir well to combine
Add coffee, oil, vanilla, and ACV to the bowl and stir well to combine
Add to greased 9″ cake round or two smaller 6″ pans
Bake for 30 minutes
To make the frosting, in a heavy bottomed pan on low heat, melt the can of coconut milk with the 1 1/2 packages of vegan chips together. Once all melted and combined, allow to cool completely before frosting the cake.
After the cake has cooled completely, I cut the cake in half and put the frosting in the middle, and then frosted the outside. I store in the refrigerator before serving. Enjoy!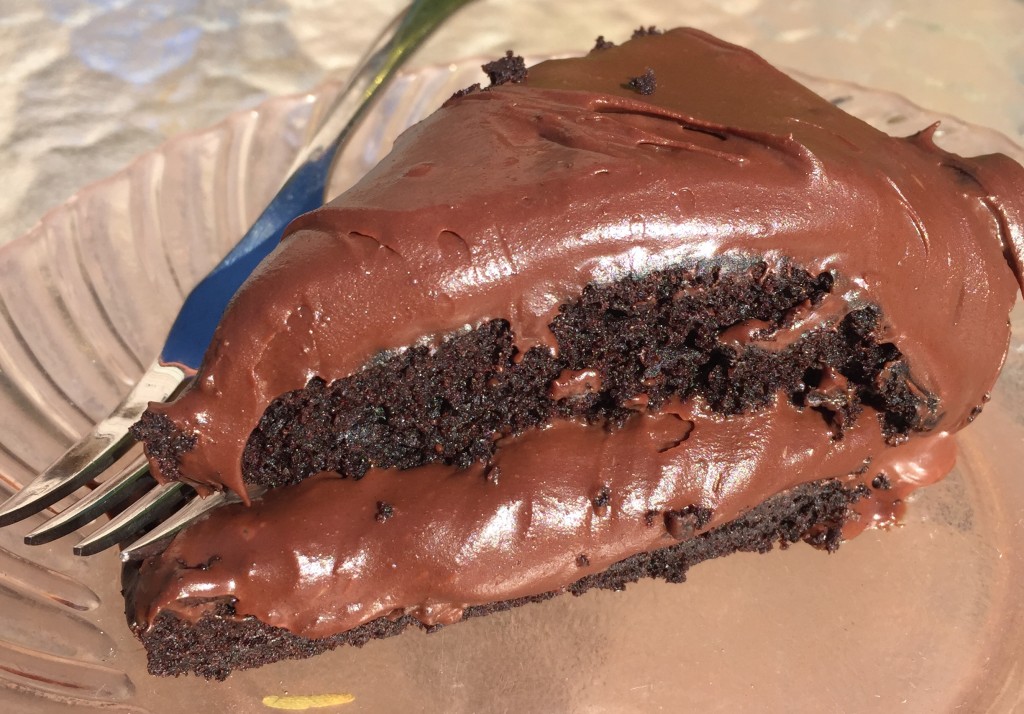 Around here, aside from Valentines Day, the month of February brings 3 birthdays in my family including my mamasita Modesta, my little brother Ardi, and yours truly, me.  I love making the people I love good food to eat, it brings me so much pleasure.  This year I made my mom and my brother personal chocolate birthday cakes for them to enjoy.  They are the best vegan and gluten free chocolate cakes ever!  And the frosting is nothing but luscious!  Enjoy!