OOOHMAMA's plant-based cream cheez
Good for you and tastes delicious!
Whole Food Ingredients
Every ingredient is a whole food – no artificial chemicals. Also made with locally sourced ingredients. No seed oils or cane sugar.
Probiotic
Active cultures provide a healthy dose of probiotics for the digestive system and gut health.
Vegan + Gluten Free
Made from high quality vegan, dairy free, gluten free, and soy free ingredients.
The Story Behind OOOHMAMA!
I became passionate about plant-based whole foods and nutrition after completing courses at the Institute for Integrative Nutrition in 2013 and Rouxbe Culinary Arts in 2015.
Learning how to make plant based cream cheese at the Rouxbe was a game changer in our home as food allergy testing revealed that three of my family members were allergic to all forms of dairy.
Removing dairy left my recipes lacking, but the plant-based cream cheese came to the rescue.
The OOOHMAMA! product line and name is inspired by my late husband, Gary. One of my favorite memories is when Gary would come home from work, approach the kitchen and ask "OOOHMAMA! What are you making?!".
After several years of grieving, Gary's love for my food inspired me to rediscover my passion for creative and healthy plant-based cuisine. I made a big career change and we launched OOOHMAMA! in the spring of 2021 at the Uptown Farmers Market in Phoenix.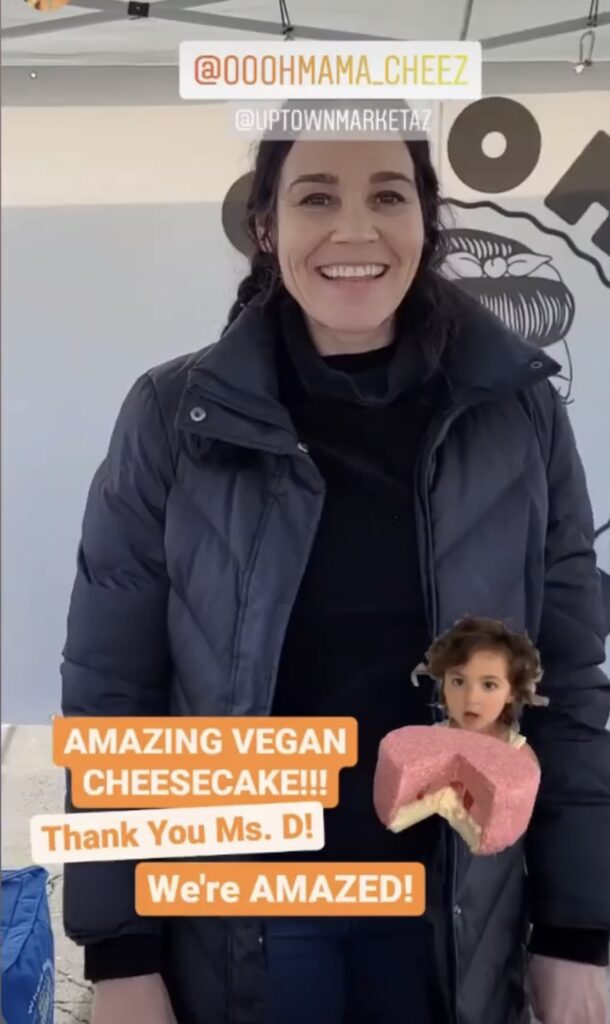 Our Products
5 delicious flavours to choose from
Plain, Queso, Jalapeno Green Onion, Green Onion and Spinach Artichoke.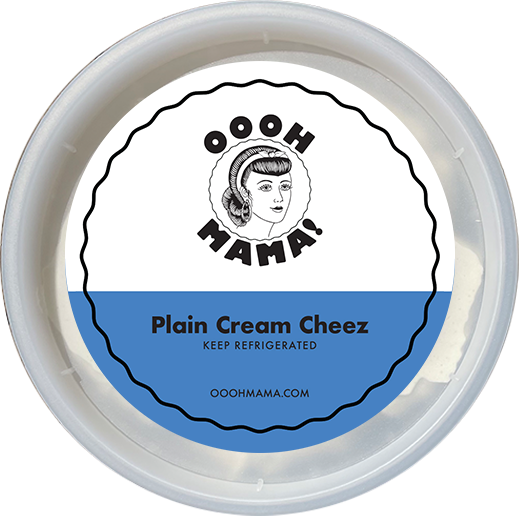 Plant-Based Plain Cream Cheez
The base, plain cream Cheez, is delicious by itself. Cheez is a cultured food that gives it a perfect cheesy flavor in any recipe that calls for cream cheese. I have been perfecting my recipes for years and use it in a variety of ways like cheezcakes, aioli's, alfredo sauces, frostings, dips, and spreads. Every recipe is better than the original.
Plant-Based Queso Cream Cheez
My oldest son is the inspiration for the Queso. He began mixing Cheez with regular hot sauce to make a spicy spread for tortilla chips. It pleased him and gave me an epiphany. I could refine his simple recipe to make a true Cheez Queso which is delicious. Topped with homegrown lacto-fermented red jalapeños, it is a favorite!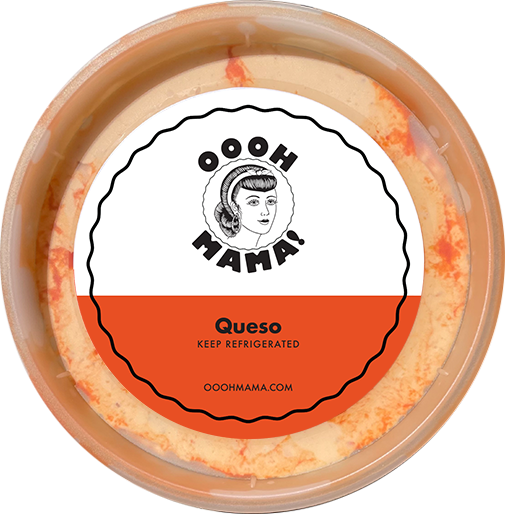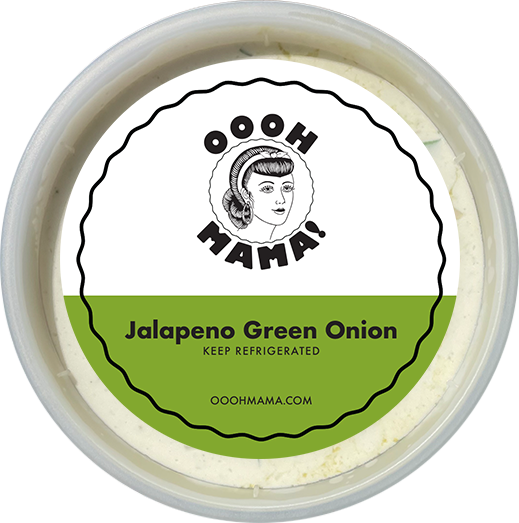 Plant-Based Jalapeño Green Onion Cream Cheez
The Jalapeño Green Onion and Queso features lacto-fermented peppers. Lacto-fermentation is an ancient method of preserving food with only filtered water and sea salt. It produces a flavorful pickle and becomes more nutrient dense because the method preserves all of the nutritive properties in the food along with the addition of healthy probiotics.
Plant-Based Green Onion Cream Cheez
I came up with this flavor for all the fans of the jalapeño green onion who asked for an onion flavor without the spice.  It is absolutely the perfect dip.  It's light, creamy and cheezy with the right amount of onion to give it a perfect flavor and you can eat it without any guilt because it's dairy and gluten free made with clean ingredients your body will love. Enjoy with chips, crackers, on sandwiches, sliced veggies, or in any recipe.  Warning, taste this and you'll be hooked!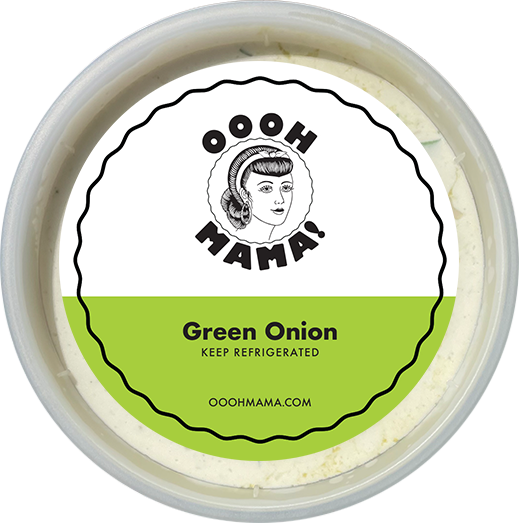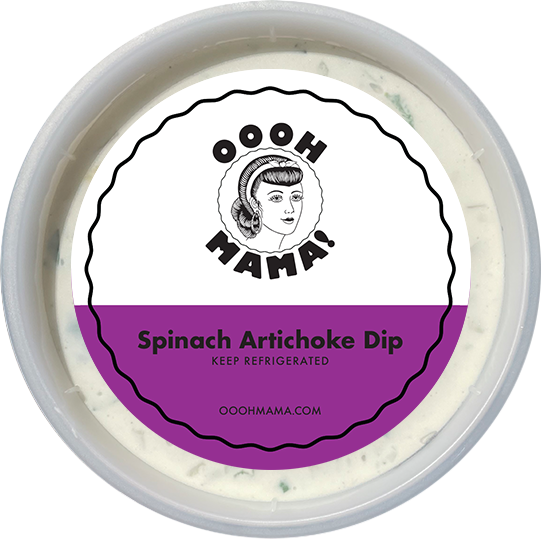 Plant-Based Spinach Artichoke Cream Cheez
The Spinach Artichoke Dip was inspired by one of my nephews who always requested this flavor combination. He is a tattoo artist who rents from Carly's Bistro on Roosevelt Row in Phoenix and he talked it up so much that Carly's owners tried it and ended up loving the dip. It is now served as one of their specials.
Where To Buy
Uptown Farmers Market
5757 N. Central Ave,
Phoenix AZ
We are there every Saturday!
Local Restaurants
Enjoy on the menu at local Phoenix eateries including Carly's bistro, Stoop Kid, Copper Star Coffee, and Vegan Grilled Cheese at the Ahwatukee Market on Sundays.
Order for Market Pick-Up
Preorder our cheez spreads from our online shop, Gather Arizona Express or Phoenix Food Coop for pick-up at a local market.
Find Us On Instagram!