Pesto
Recipe Type
:
Vegan and Gluten Free
Author:
Prep time:
Cook time:
Total time:
An easy and delicious pesto recipe that can be used in various dishes
Ingredients
8 oz package of raw pine nuts
1/2 cup raw sprouted pumpkin seeds
4 cloves of garlic
2 cups basil leaves
2 cups kale
1/2 cup olive oil
juice of one lemon
salt to taste
Instructions
Place the pine nuts, seeds, garlic, kale,basil, and lemon juice into food processor and process until all chopped and mixed together
Taste for salt
Add olive oil and process some more
Place into a glass container and store in refrigerator until ready to use
Enjoy!
Pesto is so delicious and versatile.  It can be eaten with crackers or chips, used as a spread for wraps and sandwiches, mixed into brown rice or pasta, stuffed mushrooms, pizza, toss steamed vegetables, add into hummus, stir into a vegetable salad, and so much more.  The combinations are endless.  Basil and kale are loaded with vitamins including K, A, C, iron, and calcium, and the pine nuts and pumpkin seeds provide you with B vitamins, vitamin E, minerals such as calcium, magnesium, zinc, selenium, and potassium, and omega 3.  So not only is pesto loaded with beneficial nutrients that your body needs, it adds flavor and depth to whatever dish you decide to make or is a satisfying snack if you decide to have a couple of tasty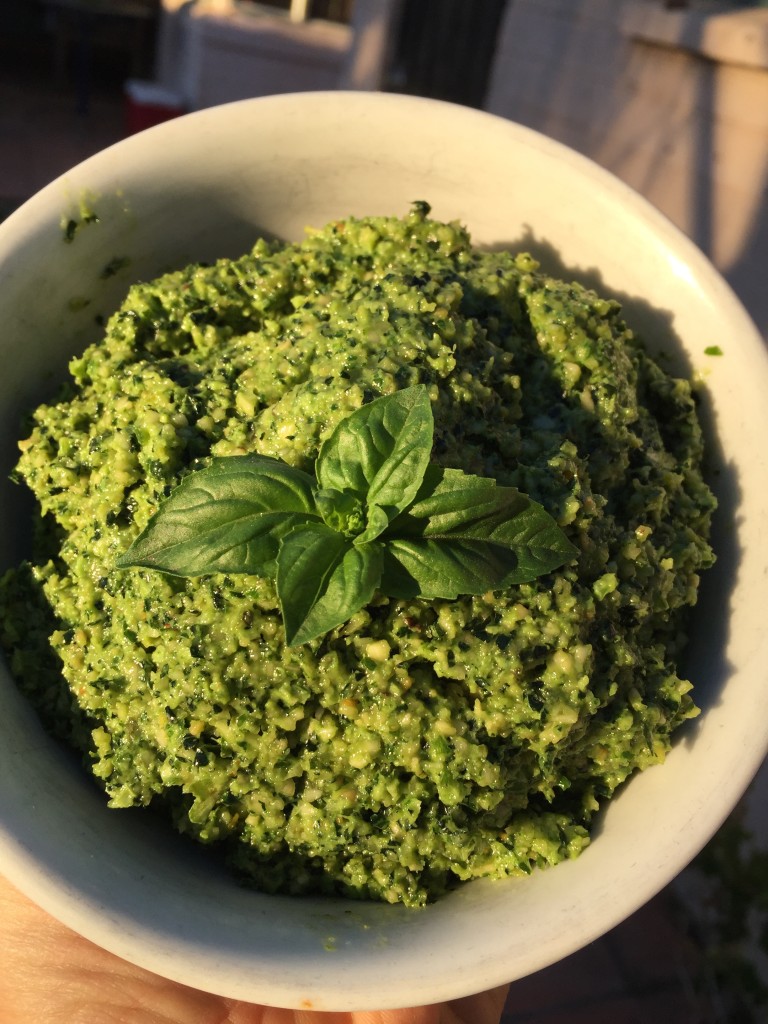 spoonfuls.