Quinoa Bowl With Sweet Potatoes
Recipe Type
:
Vegan, Gluten Free
Author:
Prep time:
Cook time:
Total time:
A delicious nutrient dense quinoa bowl
Ingredients
1 1/2 cups quinoa (uncooked)
1 onion
4 garlic cloves
1 sweet potato
1 bunch of cilantro
1 15oz can cannellini beans
2 tbsp avocado oil
2 tsp garam masala
Himalayan salt to taste
Instructions
Cook the quinoa as directed or you can use the boiling method, which I prefer because I can then control the firmness of the quinoa. In a large pot of salted boiling water with the juice of one lemon I cook the quinoa for about ten minutes. I drain the water once it is cooked, but not mushy. I like the boiling method better because then all the quinoa is cooked evenly vs the absorption method where the bottom half of the pan is mushy quinoa and the top half is not.
In a heated skillet, add the avocado oil and diced onions and sauté for a few minutes. Add salt to taste.
Next add the garlic and stir and allow to cook another minute or so
Now add the diced sweet potatoes, some salt to taste and allow to cook and soften for a few minutes, stirring every now and then so the mixture doesn't burn.
Once the sweet potatoes have sautéed and softened, add the garam masala and stir well.
Add the cannellini beans and stir well and cook for a minute or so until everything is well combined and cooked. Taste for salt.
Add the cooked quinoa to the skillet and stir well to combine. Taste for seasoning and you can add some cayenne pepper to this dish if you like it spicy. Turn the heat off.
Add the chopped cilantro before serving so it maintains it's bright green color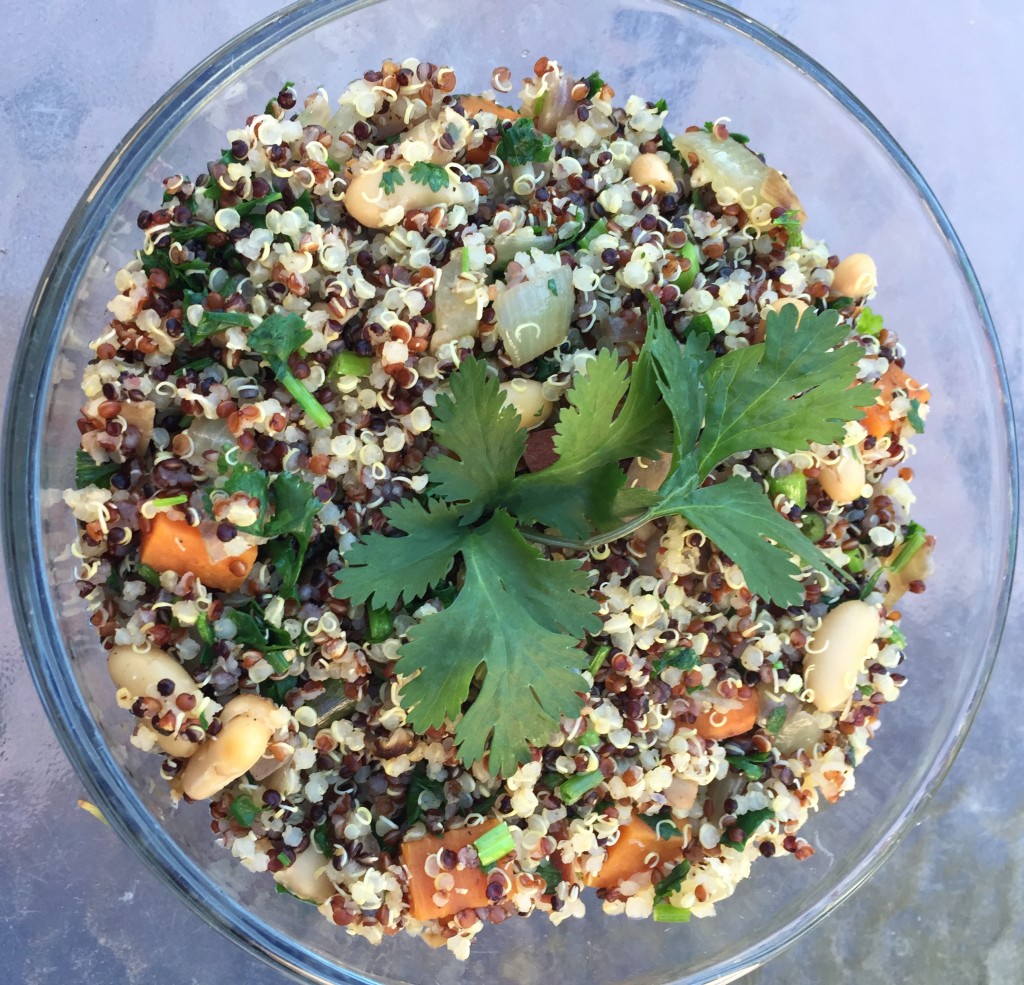 Quinoa is an ancient grain that dates back thousands of years.  Quinoa was considered gold by the Incas because of it's high nutritive qualities and it was believed to increase the stamina of the warriors.  Quinoa is very high in protein containing all 9 essential amino acids and contains 2 times the amount of fiber as most other grains.  Quinoa is also high in iron, magnesium, and vitamin B2.  Since my sons are athletes, I love to have nutrient dense high protein plant foods ready to eat when they get home to help with muscle recovery and hunger.  This recipe has many flavors and nutrients aside from the quinoa.   The sweet potatoes are rich in potassium which helps your heart and muscles, vitamin A to help your eyes, skin, and bones, and also contains vitamin C and iron for a healthy immune system.  The cilantro in this dish adds another flavor profile along with many added nutrients.  Cilantro has been known to detoxify the body by binding heavy metals including mercury, aluminum, and lead to help carry them out of the body.  Cilantro is loaded with phytonutrients and antioxidants and vitamins A, C, K, and traces of B vitamins.  Cilantro also has calcium which is good for the bones.   By adding the cannellini beans to this recipe, you're getting extra protein, fiber, antioxidants, and vitamins B9 and B1.