These have always been a family favorite. In Paraguay, where my maternal family is from, these are typically deep fried and loaded with cheese that oozes out with every bite. I have perfected a vegan and gluten free recipe over the years that is just as delicious and addicting.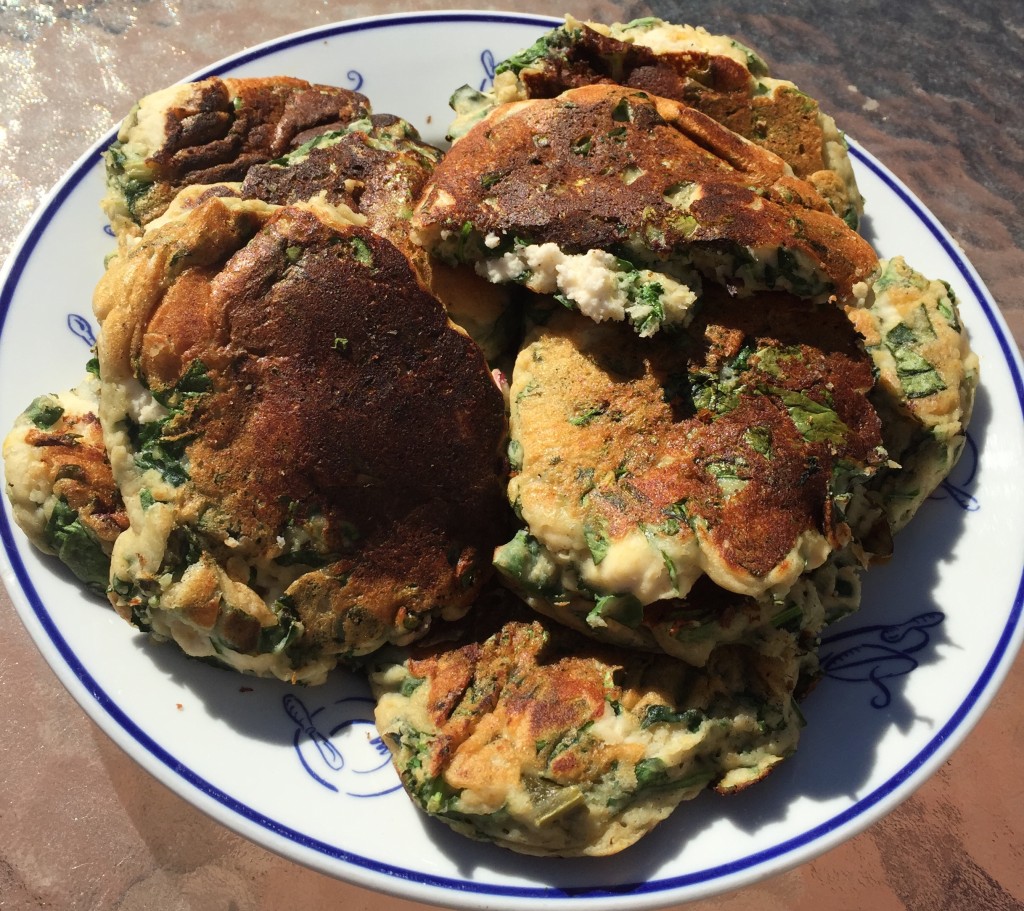 Spinach Pancakes
Recipe Type
:
Vegan, Gluten Free
Author:
Prep time:
Cook time:
Total time:
Ingredients
2 tbsp flax seed (ground) and 6 tbsp water for the egg
1 1/2 cup gluten free flour (I use Bobs Red Mill gluten free one to one baking flour)
1 tbsp baking powder
1 tsp salt
1 tsp onion powder
2 1/2 cup non dairy milk (unsweetened and no vanilla)
1/4 cup avocado oil
5-6 oz package of organic baby spinach or power greens
1 1/2 cup macadamia nut cheese (or other non dairy ricotta or chèvre style cheese)
1 cup chopped green onion(optional)
Instructions
Grind flax seed and add to a bowl with the water and let sit for a few minutes
Add flour, baking powder, salt, onion powder to a mixing bowl and stir to combine
Add oil, flax egg, and milk and stir well until it's all mixed and you have a nice pancake batter
Add chopped spinach and green onion and stir well
Lastly, drop in teaspoonfuls of cheese and fold in carefully so they stay whole in the batter
Cook in a preheated greased skillet as you would pancakes(on medium heat), flipping over when bubbles start to form on top
Serve and enjoy!!
To make macadamia nut cheese, soak 1 lb of raw macadamia nuts overnight. In the morning, drain soak water, add to a vitamix or a food processor with 2 tsp of probiotics powder and about 2/3 cup water and blend until smooth. I added this mixture to a cheesecloth and then tightened the cloth by twisting the top and then put that into a strainer with a weight on top to press out the water. Cover with a clean cloth and allow to culture for 36 hrs. Alternatively, you can buy your favorite non dairy cheese and use that in the recipe instead.