Dark Chocolate Energy Balls
Recipe Type
:
Vegan, Gluten Free, Raw
Author:
Prep time:
Cook time:
Total time:
Ingredients
1 cup raw almond butter
1/2 cup coconut oil
1/2 cup maple syrup
20 dates
12 oz package raw almonds
2 cups oats (gluten free and not quick oats)
1 cup hemp hearts
1/2 cup chia seeds
1/2 cup raw cacao
1/2 tsp himalayan salt
Instructions
In a double boiler, slightly warm almond butter, coconut oil, and maple syrup until all melted together and remove from heat
In a food processor add the almonds and process until crumbly, but not flour
Pit the dates and add to the almonds and process until mixed well
Add the oats, hemp hearts, chia, raw cacao, and salt and process until all combined
Add to a mixing bowl and now pour the almond butter mixture into the bowl and stir well to combine
Form into balls and roll into more raw cacao
Freeze to set for about 30-45 min
Store in refrigerator
Enjoy!!
Are you looking for an afternoon pick me up?  For a delicious snack that has protein, iron, magnesium, potassium, calcium,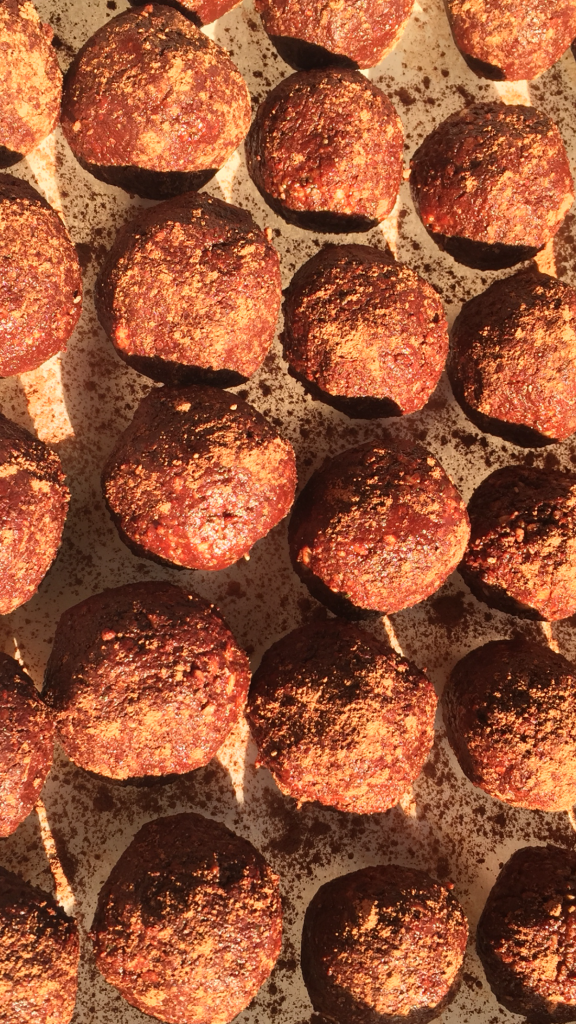 fiber, and much more?  Oh, and that tastes delicious and is good enough to be a dessert?  Well this is it!  These can be enjoyed before or after a workout, to satisfy a chocolate craving, or as a quick snack.  Enjoy!